Text To Software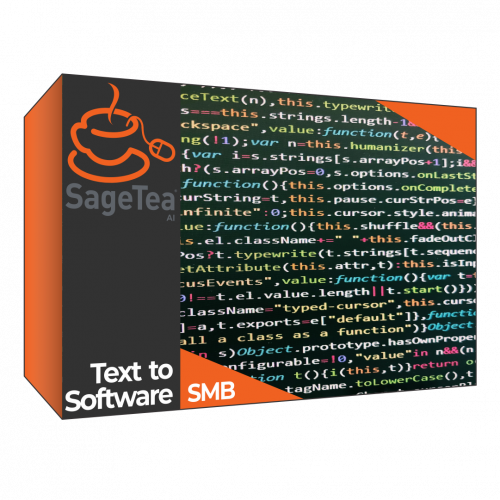 SageTea Software has invented the world's first commercial Natural Language Programming (NLP) development platform: Text-to-Software®. With Text-to-Software, clients in any industry can transform the written word into a working software system with little or no coding.
Low Code Tool
Text-to-Software is a "low code" tool that takes the complexity and mystery out of building software. It is an "expert system" that ingests text, converts it into requirements and instantiates a workflow automatically. If you can write down what you need, our tool can create software for you with very little work by you. The result? Working applications in considerably less time and at significantly less cost.
Agile Software Development Principles
Text-to-Software is ideally suited to Agile Software Development Principles. Client satisfaction is guaranteed through the tools ability to produce rapid prototypes and adapt to changing requirements during the entire lifecycle of the project.
Accessible AI
It uses artificial intelligence (AI) to further analyze data to produce graphs and data analyses that dig deeper and provide greater understandings than traditional software.
Data Security
Extensive security reviews of Text to Software and the SageTea methodology of software development have been completed. These reviews concluded that our technology significantly reduced the number of situations where outside entities could access the application. They also concluded that these situations could be addressed much faster using Text to Software than with traditional coding.
Text-to-Software
⦁ Makes AI accessible for all levels of business.
⦁ Designed for use by the business owner/analyst.
⦁ No need for a third party to install and customize your Features.
⦁ Can read PDFs, Word documents, Text and Images.
⦁ Processes large amounts of data.
⦁ Identifies Risks and Controls.
⦁ Enables Predictive Analytics.
⦁ AI Models are customizable to clients' needs.
⦁ Available on XFone Mobile phone.
SageTea has received an Innovative Solutions Canada award. This award will have us working with the Document Imaging Services Directorate of Public Services and Procurement Canada to make government documents more accessible to the visibly impaired.